Moore Threads Intelligent Technology (Beijing) Co., Ltd. (abbreviation: Moore Threads) and Paddle Inference recently completed Level I compatibility testing on the multi-functional MTT S series GPU. The test results show that the two parties are compatible, and that the overall operation is stable. This is also the staged progress made by the two parties through their participation in the "Hardware Ecological Co-creation Plan."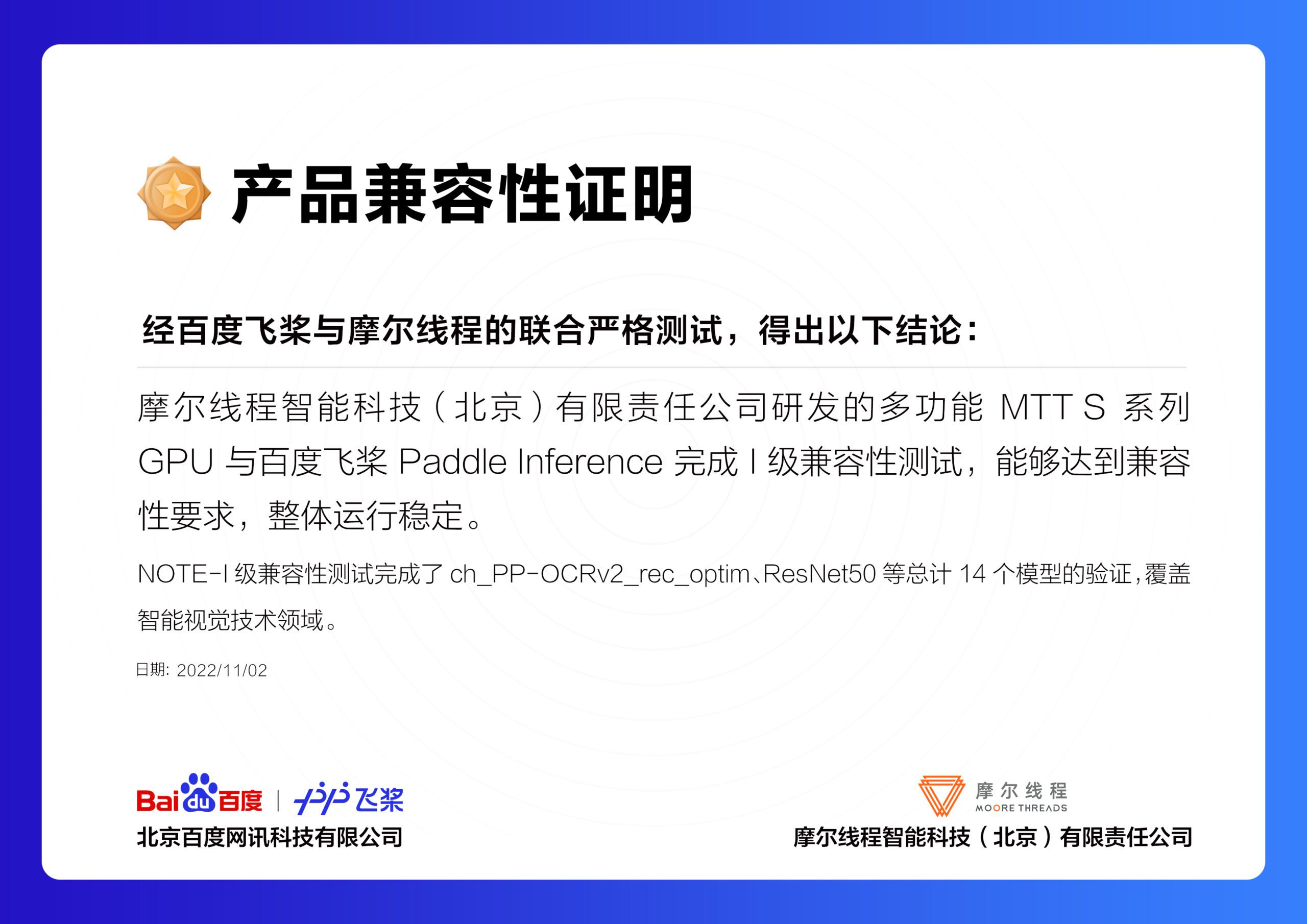 The Moore threads multi-functional MTT S series GPU is used in this level I compatibility test. The Moore threads has finished adapting 14 models for inference. In the field of computer vision, the models cover classification, detection, and segmentation. (segmentation) direction The accuracy of the model meets the expected requirements after strict joint verification by both parties, and the compatibility with the flying propeller is good, meeting the level I compatibility requirements. Furthermore, Moore Threads has created an end-to-end text recognition software development kit based on PaddleOCR, which allows users to quickly integrate into the overall solution and realize the text recognition acceleration function on Moore Threads multi-function GPU.
Moore Threads MTT S series products are built on the MUSA unified system architecture, and include four engines: modern graphics rendering, intelligent multimedia, AI computing acceleration, physical simulation, and scientific computing. MTT S series products can meet the model training and reasoning applications of various intelligent application scenarios such as computer vision and natural language processing, and provide support for many mainstream deep learning algorithms, thanks to the rich model library support and advanced hardware design.
Simultaneously, software ecology is critical to increasing the popularity of GPU computing. Moore Threads has built a complete MUSA software stack around the MUSA architecture to serve the majority of developers and end users. Graphics rendering, multimedia, artificial intelligence, physical simulation, and general computing are among the functional modules included in the MUSA software stack. It is committed to meeting various industry scenarios, from the underlying driver to the GPU acceleration library, and then to the application field development kit customized for different industries. The requirements for application development are as follows.
Previously, Moore Threads officially joined Flying Paddle's "Hardware Ecological Co-creation Plan." To accelerate the development of artificial intelligence ecology and application innovation, the two parties will work closely together in many areas, including technology implementation, ecological construction, and marketing promotion. Moore Thread's relevant person in charge stated: "Moore Threads and Flying Paddle will continue to work closely together. We will provide developers with flexible and convenient deployment solutions based on the Moore Threads GPU+Flying Paddle deep learning framework, and we will collaborate to build and improve a more prosperous AI innovation ecosystem. The widespread use of AI technology provides solid backing."
About Moore Threads
Moore Threads is a high-tech integrated circuit company that specializes in GPU chip design. Its primary focus is the development and design of full-featured GPU chips and related products that can provide powerful computing acceleration capabilities to Chinese technology partners. Founded in October 2020, the company is dedicated to developing a new generation of GPUs for meta-computing applications, constructing a comprehensive computing platform that integrates visual computing, 3D graphics computing, scientific computing, and artificial intelligence computing, and establishing an ecosystem based on cloud-native GPU computing to help drive the digital economy's development.
About UnixCloud
Moore Threads is distributed by Unixcloud Technology (Shenzhen) Co., Ltd. Unixcloud has a long history of product development and manufacturing. Moore Threads' official authorized distributor is UnixCloud. It focuses on the field of edge computing in response to the computing power requirements of artificial intelligence development, and it offers the industry edge computing products and solutions that meet a variety of AI requirements. UnixCloud launched the 10G network card business at the same time, offering four-port and two-port 10G optical fiber network cards based on the Mucse-based network controller N10.