Moore Threads and China Merchants Bank Beijing Branch (also known as "China Merchants Bank North Branch") recently signed a strategic cooperation agreement. The two parties will concentrate on the banking fintech business, leveraging their respective resources and advantages to jointly explore and promote the use of multi-functional GPUs in the fintech field, continuously optimize the user experience through technological innovation, and construct a new scenario for China's digital infrastructure financial applications.
As the digital economy has been tasked with being a new economic engine, traditional industries have continued to upgrade and transform, resulting in the birth of new industries, business formats, and models. In order to better serve many companies, the banking industry is also investigating how to optimize business models through the integration of financial technology. In today's digital age, financial needs have taken on new characteristics such as being scenario-based, fragmented, diverse, long-tail, and inclusive. A large number of users, as well as massive transactions and transactions, must be dealt with by the next generation of financial-level systems. The realization of all of this is dependent on the support of powerful computing power.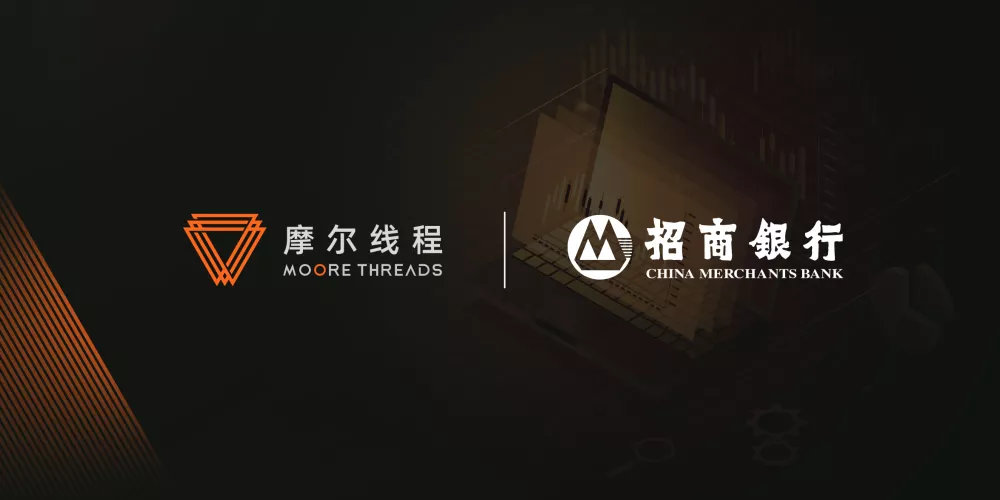 GPU, as a key computing power engine for advanced computing in the future, can provide a critical computing platform for banks' digital transformation. Moore Threads and China Merchants Bank North Branch will collaborate on how to help China Merchants Bank's digital process using Moore Thread's multi-functional GPU and related technologies. The two parties will collaborate on technological innovation exchanges and collaboration, as well as the application of technologies such as AI artificial intelligence, media processing, and cloud desktop in the field of financial technology.
In terms of artificial intelligence, the Moore Threads multi-function GPU chip has four AI computing acceleration engines and scientific computing engines built in, allowing it to fully meet the needs of multiple computing power in the cloud, edge, and end of the digital economy. Based on the Moore Threads multi-function GPU, the two parties will discuss the specific application scenarios and pain points of AI artificial intelligence in the field of financial technology, and integrate AI technology based on actual business scenarios to achieve the goals of technological innovation, cost reduction, and efficiency enhancement, as well as provide users with greater flexibility. Experience that is dependable and secure.
In terms of media processing and cloud desktop, Moore Threads MUSA architecture-based GPU virtualization technology will enable Moore Threads multi-function GPU products to achieve higher performance and efficiency in the virtualization architecture, as well as promote the improvement of cloud desktop user experience. Moore Threads and China Merchants Bank Head Office will be assisted by China Merchants Bank North Branch in testing and evaluating GPU cloud desktop solutions, as well as investigating deployment feasibility.
The two parties will use this signing to establish a new starting point for Moore Threads and China Merchants Bank North Branch's collaboration, achieve complementary advantages and win-win business, jointly promote the bank's fintech business in more scenarios, and create a more convenient and intelligent user experience. Drive growth through digitalization and, eventually, digital transformation goals.
Beijing Branch of China Merchants Bank
China Merchants Bank was founded in 1987 in Shekou, Shenzhen, at the forefront of China's reform and opening up. It is China's first joint-stock commercial bank owned entirely by a corporate legal person, as well as the first pilot bank to promote banking reform from outside the system. China Merchants Bank has grown to become a banking group with financial licenses for commercial banking, financial leasing, fund management, life insurance, overseas investment banking, consumer finance, wealth management subsidiaries, and direct selling banks in the 35 years since its inception. Won Euromoney's "Best Bank in China" award, the first "three consecutive championships" in the award's history; on the Fortune Global 500 list, it has been on the list for 9 consecutive years, ranking 189th; and in the 2021 ranking of the top 1000 global banks released by the British "Banker" magazine, it has been in the top 20 for four consecutive years, ranking 14th.
Bank of China Merchants Beijing Branch has always been a symbol of China Merchants Bank. It maintains a high level of management and development quality. It received the Head Office's 30th anniversary long-distance running award and the title of Excellent Branch for many years in a row. Many business indicators in the Beijing market are among the best.
About Moore Threads
Moore Threads is a high-tech integrated circuit company that specializes in GPU chip design. Its primary focus is the development and design of full-featured GPU chips and related products that can provide powerful computing acceleration capabilities to Chinese technology partners. Founded in October 2020, the company is dedicated to developing a new generation of GPUs for meta-computing applications, constructing a comprehensive computing platform that integrates visual computing, 3D graphics computing, scientific computing, and artificial intelligence computing, and establishing an ecosystem based on cloud-native GPU computing to help drive the digital economy's development.
About UnixCloud
Moore Threads is distributed by Unixcloud Technology (Shenzhen) Co., Ltd. Unixcloud has a long history of product development and manufacturing. Moore Threads' official authorized distributor is UnixCloud. It focuses on the field of edge computing in response to the computing power requirements of artificial intelligence development, and it offers the industry edge computing products and solutions that meet a variety of AI requirements. UnixCloud launched the 10G network card business at the same time, offering four-port and two-port 10G optical fiber network cards based on the Mucse-based network controller N10.