March 30, 2022, Beijing – Moore Threads officially launched the first data center-level multi-function GPU product MTT S2000 based on its advanced architecture MUSA Unified System Architecture (Moore Threads Unified System Architecture). Moore Threads MTT S2000 is developed and made based on its first-generation MUSA architecture GPU chip Sudi. It has built-in hardware modules such as rendering, audio and video codec, artificial intelligence acceleration and parallel computing. It can provide graphics and image rendering, video cloud processing, AI and scientific Full stack functionality including computation. With its unique rendering, virtualization and other capabilities and extensive ecological support, MTT S2000 can fully contribute to the development of the green digital economy in application scenarios such as cloud desktop, Android cloud gaming, video cloud, cloud rendering, and AI inference computing acceleration.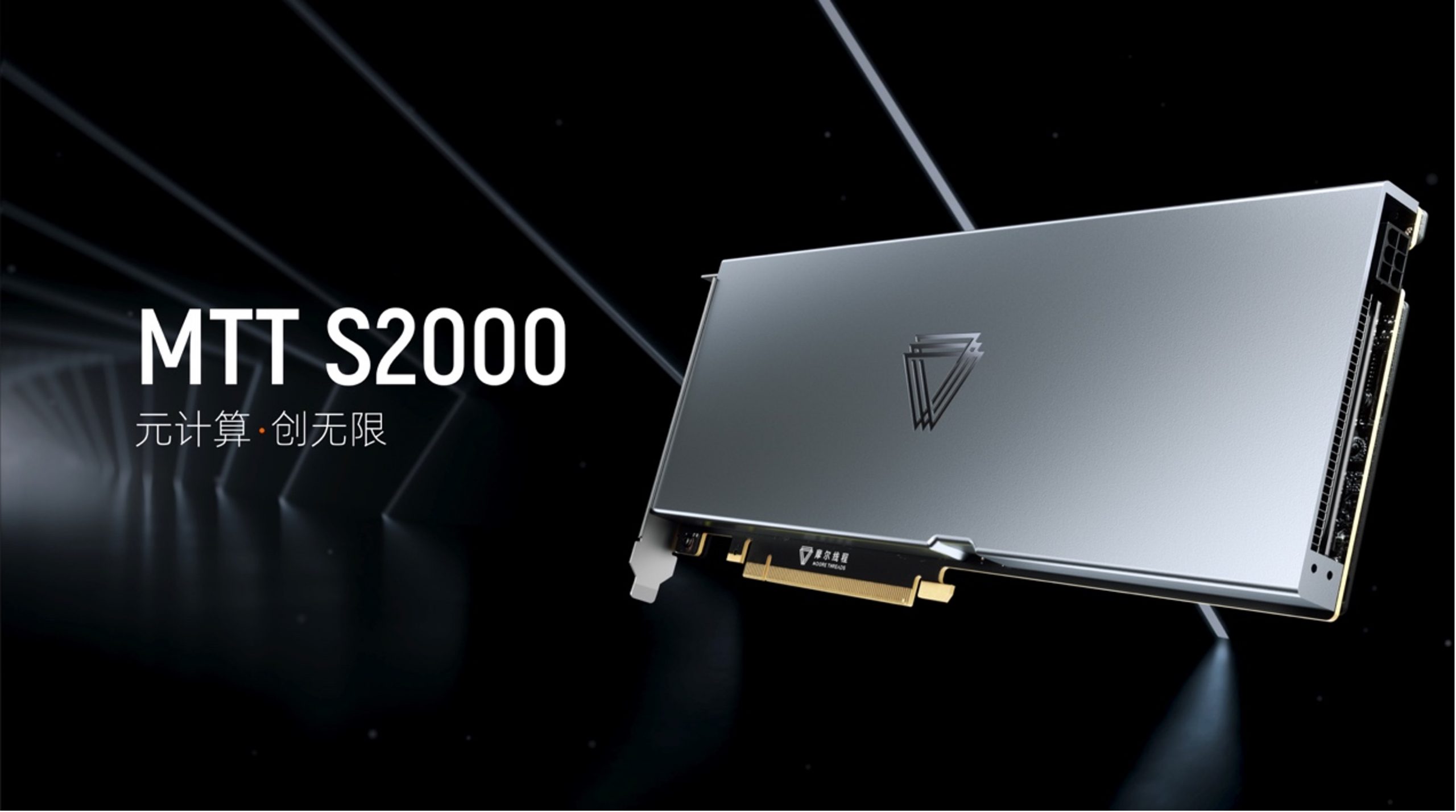 Advanced architecture to create green multi-dimensional computing power in data centers
MUSA is a unified system architecture adopted by Moore's thread product family, including a unified programming model, software runtime, driver framework, instruction set architecture and chip architecture. MTT S2000 adopts 12nm process, uses 4096 MUSA cores, has a maximum configuration of 32GB video memory, single-precision computing power can reach up to 12TFlops, supports H.264, H.265, AV1 multi-channel high-definition video codec, and a wide range of AI model algorithm acceleration . The MTT S2000 adopts passive cooling and a single-slot design to meet the high-density GPU configuration in the data center.
In order to improve the performance of MUSA architecture products in the actual production environment, Moore Threads also launched a unified programming model, runtime library, drivers and other software tools specially optimized for the hardware architecture for MTT S2000 series products, which can facilitate developers to complete application migration. and adaptation, fully utilize the hardware resources and computing power of MTT S2000. MTT S2000 supports OpenGL, OpenGL ES, DirectX, Vulkan and other graphics APIs; supports audio and video processing ecosystems through FFMPEG and VA-API/DXVA compatibility; and satisfies the program compatibility of AI and scientific computing through OpenCL and Vulkan.
Moore Threads MTT S2000 is compatible with X86, ARM and other CPU architectures and mainstream Linux operating system distributions, and has begun to cooperate with a number of server partners, including Inspur, H3C, Lenovo, Tsinghua Tongfang, Great Wall Chaoyun, Siteng Heli ( In no particular order), a variety of general-purpose servers and GPU server models from OEM manufacturers can be deployed in a variety of hardware and application environments.
• Accelerate PC cloud desktop: The MT Mesh 1.0 GPU virtualization technology adopted by Moore Threads MUSA architecture enables MTT S2000 to obtain higher performance and efficiency in the virtualization architecture. MTT S2000 is the first hardware-based GPU virtualization solution in China. Based on the industry standard SR-IOV (Single Root I/O Virtualization) technology, each physical GPU can accommodate multiple virtualized users to work remotely.
The MTT S2000 virtualization technology will greatly improve the user experience of cloud desktops. Users can either bind a GPU to a single virtual machine in accordance with the traditional GPU pass-through solution to obtain the maximum performance of a single application; or allocate GPUs to many virtual machines through GPU virtualization to achieve the highest possible performance. Computing resource utilization. At the same time, in the virtual machine, Moore Threads provides simultaneous support for Windows and Linux operating systems, and is compatible with rendering APIs such as DirectX, OpenGL, and Vulkan, ensuring the compatibility of user applications. At the same time, with the help of Moore Threads DirectStream technology, MTT S2000 can complete rendering and encoding more quickly, and concurrently support multi-channel video encoding, effectively reducing CPU load and system delay.
• Native Android cloud game acceleration: MTT S2000 supports ARM architecture, and supports CPU server products such as Kunpeng, Ampere, and Feiteng. MTT S2000 directly provides native support for OpenGL ES interface, and supports hardware processing of texture materials such as ETC/ETC2/ASTC/S3TC, which enables MTT S2000 memory bandwidth usage efficiency to be increased by 2.4 times, thus allowing Moore Threads GPU to be used in the cloud. Better rendering efficiency in mobile and cloud games. At the same time, MTT S2000 is also equipped with Moore Threads's first-generation Android Cloud Accelerator (ACX), which greatly improves the computing efficiency of Android cloud mobile phones and cloud game applications through Android driver transparent transmission and GPU hardware encoding, and greatly improves the Android system compatibility.
• Accelerated video cloud computing: Based on independent hardware encoders and decoders, MTT S2000 can complete multiple concurrent hardware encoding and decoding, greatly improving the computing efficiency of video cloud. In terms of format support, MTT S2000 can not only implement hardware encoding of video formats such as H.264 and H.265, but also take the lead in providing hardware support for the next-generation encoding standard AV1. In terms of decoding methods, MTT S2000 can provide hardware support for H.264, H.265, AV1, VP9/VP8 and other formats. Very broad scope of application.
• Cloud Unreal/Unity application rendering: MTT S2000 has deeply adapted and optimized the driver for application rendering frameworks such as Unreal and Unity to ensure that the hardware capabilities inside the GPU can be fully utilized. Whether it is rendering with traditional rendering frameworks or AI-assisted rendering, Moore Threads full-stack GPU can support and accelerate it.
• Accelerated AI computing: Thanks to the rich model library support and advanced hardware design, MTT S2000 can meet the model training and reasoning applications of various intelligent application scenarios such as computer vision and natural language processing. Provides support for many mainstream deep learning algorithms including Yolo V2/V3/V5, PSENet, Mask RCNN, Resnet 50/101, Inception, Vgg, Alexnet, Densenet, Unet, etc. At the same time, MTT S2000 also supports users to use PyTorch, TensorFlow, PaddlePaddle and other deep learning frameworks for algorithm development and application construction. In addition, users can also develop through the more widely used OpenCL and CUDA environments, which greatly reduces the learning and application threshold of new hardware and improves the development speed.
Multi-dimensional computing power, widely empowering the development of digital economy in thousands of industries
The multi-functional computing capabilities of the MTT S2000 have brought practical benefits to users in various application scenarios including cloud desktop, Android cloud gaming, audio and video cloud processing, cloud Unreal/Unity application rendering, and AI inference computing.
Qu Jingyang, deputy general manager of Ruijie Cloud Desktop, said: "The performance improvement of vGPU (virtualized GPU) in virtual machines has become one of the general consensus in the industry. How to equip a vGPU with superior performance and reasonable cost has always been our cloud. A key link in desktop solutions. In order to pursue the ultimate user experience, both operating systems and applications are expecting to achieve this goal through more sophisticated rendering and 3D methods, which is a challenge to the traditional rendering method that uses a CPU to simulate a graphics card. It brings great challenges. The current vGPU technology faces challenges such as high cost and low technical controllability. Moore Threads MT Mesh 1.0 vGPU technology enables us to divide the MTT S2000 into multiple virtual GPUs to support 24+ channels of cloud desktops. Display rendering can effectively reduce the CPU load while improving the overall rendering effect; at the same time, the built-in encoding module of MTT S2000 can replace the traditional CPU encoding method, further reducing the CPU load. Most importantly, Moore Threads GPU provides Windows The support of the operating system continues the Windows application ecosystem in the VDI scenario. MTT S2000 can greatly help improve the competitiveness of our products, and help the rapid development of cloud desktop products in education, office, multimedia processing and other industries. Looking forward to it."
Guo Jianjun, CEO of Weiling Times, said: "How to balance the picture, performance and energy consumption of large-scale 3D games is a difficult problem that plagues the mobile game and mobile phone industry. The golden key of the Metaverse. As a full-service provider of cloud games, the Android Cloud Accelerator launched by Weiling Times can push native Android applications, including large-scale 3D games, to user's mobile phones in a cloud-based manner. Moore Threads MTT S2000 is in the The outstanding performance of 3D graphics rendering performance, advanced mobile graphics API interface and video encoding will help us achieve this goal with lower latency, lower power consumption and higher cost performance."
Zou Qiong, CEO of cloud rendering leader Ruiyun Technology, said: "Real-time cloud rendering is one of Ruiyun's main businesses. 3Dcat is supported by the powerful GPU computing power in the cloud, and Ruiyun has provided services for a wide range of applications including cloud VR, AEC, and cloud games. The scene provides services. Moore Threads's MTT S2000 series products can well support cloud Unreal/Unity application rendering, well connected with Raycloud's existing technical framework, and can provide more cost-effective cloud rendering GPU solutions."
Yang Jie, CEO of Escher Technology, said: "In the process of promoting high-quality rural development, safeguarding food security, and promoting the development of agricultural industrialization, the digitalization and intelligence of agriculture are the only way to go. This requires the digital twin of the planting base. Based on the model, growers, service providers, buyers and consumers are closely integrated through the cloud platform. The cloud data center that provides support for this requires not only huge traditional computing power, but also powerful AI computing capabilities, 3D rendering capabilities Power and video encoding and decoding capabilities. Moore Threads MTT S2000 series GPU not only provides these new capabilities, but also is highly compatible with the "Cloud Seven Links" agricultural digital platform built by Escher Technology, driven by a new generation of multi-functional computing power The digital and intelligent development of agriculture."
Diversified green computing is an important way to improve the efficiency of data centers, reduce energy consumption, and achieve green development of the digital economy. It is also an indispensable cornerstone of computing power for cloud and data centers in the development of the digital economy. The launch of Moore Threads MTT S2000 has broken the long-standing fixed pattern, and the multi-dimensional full-scenario computing power it brings also provides the data center GPU market with a new choice of leading architecture, powerful performance, wide use, and green efficiency. With the continuous collaborative efforts of the Moore Threads technical team and a wide range of ecosystems, a larger era of digital intelligence will also accelerate.
Regarding the Moore Threads:
Moore Threads Intelligent Technology (Beijing) Co., Ltd. is an integrated circuit high-tech company mainly focusing on GPU chip design. It focuses on the research and development of full-featured GPU chips and related products, which can provide powerful computing acceleration capabilities for Chinese scientific and technological ecological partners. . Founded in October 2020, the company is committed to innovating a new generation of GPUs for meta-computing applications, building a comprehensive computing platform integrating visual computing, 3D graphics computing, scientific computing and artificial intelligence computing, and establishing an ecosystem based on cloud-native GPU computing, Help drive the development of the digital economy. For more information, please visit the official website https://www.mthreads.com/.