March 30, 2022, Beijing- Moore Threads officially released its first multi-function smart graphics card, MTT S60, today. This is the first desktop-level graphics card built by Moore Threads based on its MUSA (Moore Threads Unified System Architecture) unified system architecture. With its excellent graphics capabilities, extensive AI algorithm support, breakthrough video processing capabilities, and its unique green energy efficiency technology, the MTT S60 graphics card enables PCs and workstations equipped with the graphics card to provide graphics rendering, digital office, audio-visual entertainment, intelligent home automation, and intelligent home automation. We provide strong computing power support for manufacturing CAD/CAE, geographic information GIS, architectural design BIM, video editing, artificial intelligence application development, and mainstream games.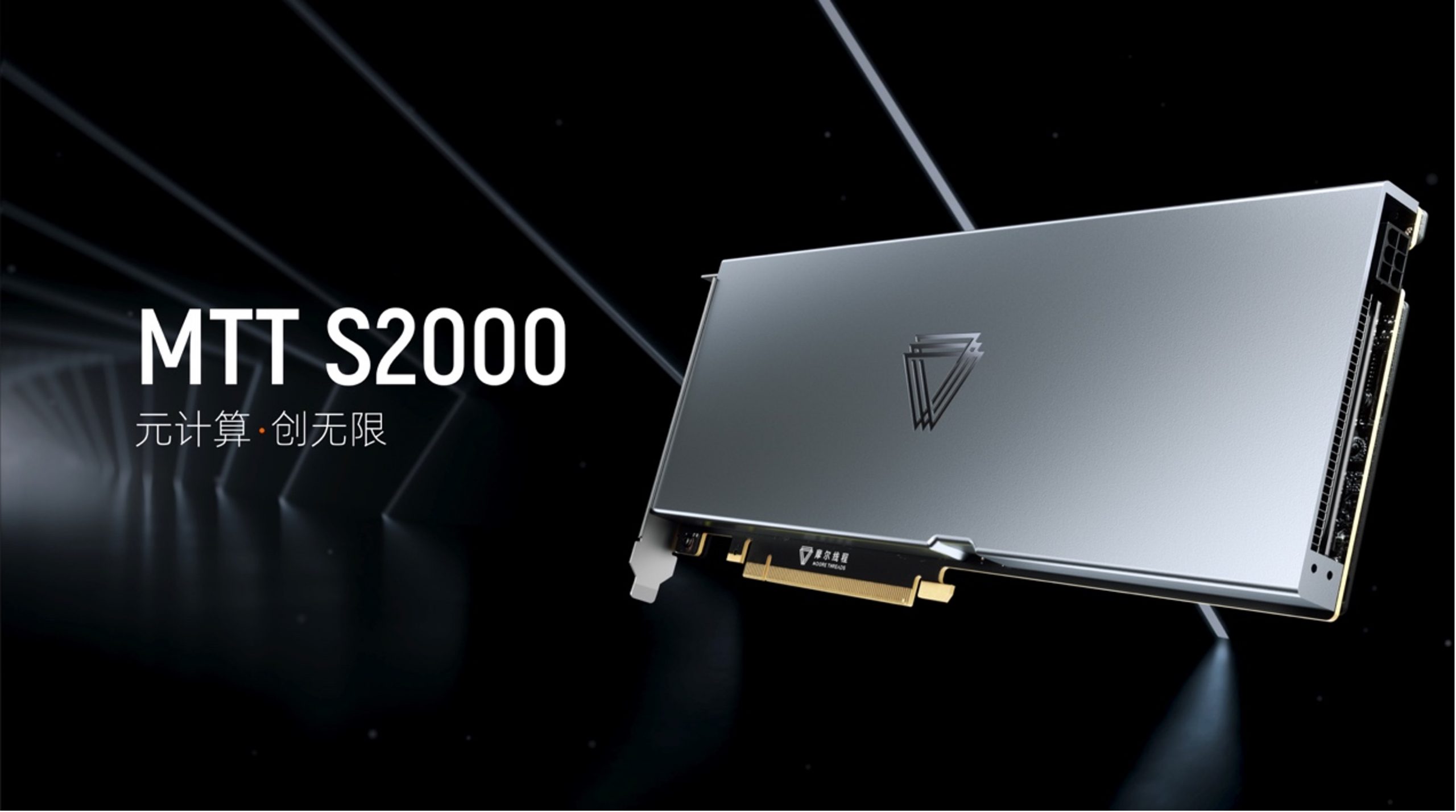 Advanced hardware specifications enable diverse applications.
MUSA is a unified system architecture adopted by Moore's thread product family, including a unified programming model, software runtime, driver framework, instruction set architecture, and chip architecture. Applications developed based on MUSA will have extensive portability and can run simultaneously on numerous computing platforms in the cloud and at the edge, including various product lines for graphics, computing, multimedia, and artificial intelligence.
The MTT S60 graphics card is based on the MUSA unified system architecture GPU Sudi core chip. It adopts a 12nm process, contains 2048 MUSA cores, has a single-precision computing power of up to 6TFlops, is equipped with 8GB of video memory, and is based on software tools such as the MUSA software runtime library and drivers. The MTT S60 graphics card can show multiple advantages in different application scenarios.
Extensive ecological platform support: MTT S60 graphics card supports various CPU platforms including Intel, AMD, Feiteng, Loongson, Zhaoxin, and Haiguang, and supports Windows 10, Kirin, Tongxin, and various Linux operating systems. With its leading modern GPU architecture, platform versatility, and support for emerging CPUs and operating systems, the MTT S60 graphics card will greatly promote China's digital infrastructure.
Rich graphics API interface: The MTT S60 graphics card supports many graphics API interfaces such as DirectX, Vulkan, OpenGL, and OpenGL ES, which can meet the graphics performance requirements of GIS, BIM, design, mainstream games, native Android, 3D rendering, and other applications.
Based on the general computing power of the full-stack GPU, the MTT S60 graphics card can accelerate the inference calculation of a wide range of AI models such as DBNet, CRNN, Yolo, and Restnet50/101, and support a variety of complex artificial intelligence tasks such as OCR, image processing, and video enhancement. Smart scene As a result, powerful AI capabilities can be released and the popularization of PC-level AI applications can be accelerated.
Leading hardware video encoding and decoding capabilities: The MTT S60 graphics card not only supports mainstream H.264 and H.265 encoding formats but also leads similar products in the industry, providing hardware encoding support for the AV1 video format, which can help enterprises and institutions reduce video processing. In terms of hardware decoding, the MTT S60 graphics card supports hardware decoding of many formats, such as AV1, H.264, and H.265. Computers equipped with Moore Threads MTT S60 graphics cards can reduce CPU load in applications such as audio-visual entertainment, video surveillance, and video editing, and improve overall computer performance and performance.
The MTT S60 graphics card provides 3 DisplayPort 1.4 specification interfaces, supports 8K/4K screen display, and can meet the needs of large-screen high-resolution entertainment and work.
MTT S60 graphics card is equipped with 8GB of large-capacity video memory. Due to supporting a variety of texture compression algorithms, the utilization rate of video memory bandwidth is also significantly improved, enabling MTT S60 graphics card to be used in complex model design, high-definition video processing, and large AI. In high-load applications such as models, it provides higher memory bandwidth utilization and maximizes performance.
PES control center: the MTT S60 graphics card provides users with a one-stop graphical management control center. With this tool, users can not only monitor the running status of the GPU and make relevant 2D/3D image output settings but also provide functions such as graphics card driver updates without manual intervention, so that the graphics card can be continuously optimized and compatible in different application environments. Sexual improvement.
Strong performance has won wide industry recognition.
The MTT S60 graphics card fully supports various CPU architectures such as X86, ARM, LoongArch, and many operating systems such as Windows, Tongxin, and Kirin. In many high-load graphics applications, the MTT S60 performs well with its powerful graphics capabilities.
In the application of geographic information systems, the advanced hardware features of Moore Threads MTT S60 graphics card can shorten the loading time of big data in GIS applications and provide smooth high-precision real-time image rendering, which greatly improves the work efficiency and experience of GIS applications. In 2D/3D CAD and architectural design BIM applications, the MTT S60 graphics card can provide designers with a smooth design experience in 2D and 3D environments, helping enterprises to efficiently complete various design tasks. In video conferencing and online learning, the integrated solution of accelerated video encoding and decoding and optimized rendering and encoding enhances the user's real-time interactive experience.
At the same time, the graphics performance of the MTT S60 graphics card can also meet the needs of e-sports games. The graphics card can not only provide a smooth gaming experience for "League of Legends" e-sports players under the Windows 10 operating system with 1080P resolution and the highest picture quality environment but also complete "Counter-Strike: Global Offensive" and "Counter-Strike: Global Offensive" under the domestic Linux operating system environment. The smooth running of many popular games, such as Dota 2.
At present, the Moore Threads MTT S60 graphics card has been widely recognized and praised by early users.
Dr. Shi Yunfei, Head of Glodon Graphics Engine, said: "Glodon is a leading enterprise in the digital transformation of the domestic construction industry, and can provide a complete set of 2D and 3D BIM-aided design software solutions for the construction industry." The smooth operation of this software requires workstations. It provides powerful graphics capabilities. The MTT S60 series products launched by Moore Threads have rich graphics interfaces and leading performance; with the cooperation of the engineering teams of both parties, Moore Threads series graphics products not only realize the integration of various BIM solutions of Glodon. The complete adaptation also provides a stable and smooth operation experience, which can help architecture and design companies cope with digital challenges calmly.
Zhou Gang, general manager of Zhongwang Software Ecological Division, said: "The transformation and upgrading of the manufacturing industry is the cornerstone of my country's sustainable, high-quality economic development." Zhongwang Software has been focusing on independent CAx core technology research and development for more than 20 years, relying on high-quality CAD products. And timely and meticulous customer service have not only accumulated a large number of users and a good reputation in the industry but also supported many enterprises in their move towards intelligent manufacturing, flexible manufacturing, and high-precision manufacturing. In addition to software support, the majority of manufacturing users also need to rely on workstations with powerful performance and excellent reliability to realize digital workflow. After in-depth verification and optimization by both teams, Moore Threads MTT S60 series graphics cards can provide the performance required for the fast running of ZW series CAD software, and in the long run, it remains stable in high-load applications and provides strong underlying hardware support for the digital transformation of manufacturing enterprises. "
Zhu Jiang, general manager of Cangqiong Digital Software Division, said: "As an important carrier of spatial information, geographic information systems are not only the basis for the development of informatization in the fields of natural resources, agriculture, forestry, and animal husbandry, transportation and water conservancy, and ecological environment, but also the foundation of smart city construction." However, with the user's desire for new technologies, higher requirements for product performance, and high demand for real-world 3D China and digital twin city construction, the loading and display of large-scale, high-precision 3D simulation scenes has become a pain point that plagues the development of GIS. Today, the emergence of the Moore Threads MTTS60 series of local graphics cards has brought rich graphics interfaces, powerful 3D rendering performance, and outstanding AI computing capabilities. Taking the adaptation effect of the domestic sky geographic information platform as an example, the graphics card can be used in a domestic environment. significantly reduces information loading and rendering time, brings significant acceleration to related applications, and provides strong support for my country's GIS industry innovation and industrial upgrading. "
Huang Xiang, CTO of Wangchen Technology, said: The ever-changing situation on the field and the strong duel between skills and power are the source of the charm of football games and the root of their popularity. With the powerful AI performance of Moore Threads MTT S60 series graphics cards, Gala Sports can finally integrate the player and team numerical systems with competitive fun in "Best Club", allowing AI real-time calculation to present players with a more realistic strength showdown. At the same time, MTT S60 can also provide complete support for advanced graphics technologies such as global illumination and volumetric light, so that players can not only see the real game results but also feel the atmosphere of the game as if they were on the scene.
With leading hardware architecture, advanced features, and powerful performance, PC and workstation products based on Moore Threads MUSA unified system architecture and MTT S60 graphics cards can meet the work and entertainment needs of mainstream users, provide users with a high-definition, smooth 2D and 3D application experience, and can provide a wide range of value to users in different fields. The Moore Threads MTT S60 graphics card has also become a brand new choice worthy of attention in today's desktop graphics card market.
About Moore Threads
Moore Threads is a high-tech integrated circuit company that specializes in GPU chip design. Its primary focus is the development and design of full-featured GPU chips and related products that can provide powerful computing acceleration capabilities to Chinese technology partners. Founded in October 2020, the company is dedicated to developing a new generation of GPUs for meta-computing applications, constructing a comprehensive computing platform that integrates visual computing, 3D graphics computing, scientific computing, and artificial intelligence computing, and establishing an ecosystem based on cloud-native GPU computing to help drive the digital economy's development.
About UnixCloud
Moore Threads is distributed by Unixcloud Technology (Shenzhen) Co., Ltd. Unixcloud has a long history of product development and manufacturing. Moore Threads' official authorized distributor is UnixCloud. It focuses on the field of edge computing in response to the computing power requirements of artificial intelligence development, and it offers the industry edge computing products and solutions that meet a variety of AI requirements. UnixCloud launched the 10G network card business at the same time, offering four-port and two-port 10G optical fiber network cards based on the Mucse-based network controller N10.