March 30, 2022, Beijing- Yuan Power Creates Unlimited Zhang Jianzhong, founder and CEO of Moore Threadss, interpreted the industry trend of "meta-computing" and released a new architecture and a series of blockbuster new products, including: the MUSA (Moore Threadss Unified System Architecture) unified system architecture; the first generation based on the MUSA architecture Multi-function GPU chip Sudi; desktop graphics card MTT S60 for PCs and workstations; graphics rendering and computing card MTT S2000 specially designed for data centers; GPU physics engine AlphaCore; DIGITALME digital human solutions; A meta-computing application solution
At the press conference, Moore Threads also demonstrated the rich applications of multi-functional GPUs based on its MUSA architecture, covering digital office, audio-visual entertainment, industrial and architectural design, geographic information systems, cloud desktops, cloud games, and other scenarios, fully demonstrating Moore's theory of The wide applicability of thread products and the strong impetus for the acceleration of the digital economy Many guests from the government, universities, developers, ecological partners, and industry customers, as well as the media, witnessed the important moment of Moore Threads.
"Metacomputing" empowers the next-generation Internet.
Moore and Threads first proposed the concept of "meta-computing". Metacomputing is a general purpose computing platform that supports the next generation of Internet applications, including the Metaverse. Based on graph computing and AI computing, it is the underlying computing power support for the digitization of the physical world and the physicalization of the digital world. It will create more opportunities for the digital economy. broad development space.
Zhang Jianzhong, founder and CEO of Moore Threads, said: "The era of meta-computing has begun, and the multi-function GPU is the computing power infrastructure of meta-computing and the origin of our innovation." Moore Threads is committed to the innovation of a new generation of GPUs for meta-computing applications; building a fusion of a general-purpose computing platform for visual computing; 3D graphics computing; scientific computing; and artificial intelligence computing; and establishing an ecosystem based on cloud-native GPU computing to help the development of the digital economy. The release of this series of new products is a major milestone in the company's development, and it is our concentrated expression of R& D strength, ecological cohesion, and innovation execution. "
The MUSA unified system architecture and the first generation chip "Sudi"
MUSA is a unified system architecture adopted by Moore's thread product family, including a unified programming model, software runtime, driver framework, instruction set architecture, and chip architecture. Applications developed by developers based on MUSA will have extensive portability and can run on numerous computing platforms in the cloud and at the edge simultaneously, including various product lines for graphics, computing, multimedia, and artificial intelligence.
At the same time, the first-generation Moore Threads multi-function GPU chip based on the MUSA unified system architecture, Sudi, was officially unveiled. The chip has a built-in modern graphics rendering engine, intelligent multimedia engine, AI computing acceleration engine, physical simulation, and scientific computing four engines. diverse computing power requirements on the side. So far, with deep insight into the GPU market, proven successful experience in GPU design, rigorous and mature technical route, and strong execution, Moore Threads has become the first in the Chinese market to carry out multi-functional GPU R&D and design, and can achieve extremely fast speed. A company that achieves mass production delivery of GPUs
The next-generation multi-platform GPU physics engine, AlphaCore
AlphaCore is a next-generation multi-platform GPU physical simulation system independently designed and developed by Moore Threads. It can perform ultra-high-precision physical simulation processing on complex solids, flexible bodies, fluids, and other effects in the physical world. The physical interaction with the soft musculature of digital characters is cinematic.
With its powerful material mechanics module, the AlphaCore physics engine can realize rich dynamic effects of material interaction, such as: elastic-plastic materials, anisotropic materials, down jackets, leather, silk, cotton, etc. The series of tools developed based on AlphaCore include: cloth and hair production tool-VeraFiber; gas fluid simulation tool-Catalyst; and bionic computing tool-Bionics. Compared with Houdini Vellum's soft hair cloth and PyroFX's pyrotechnic fluid, AlphaCore has a 510 performance improvement.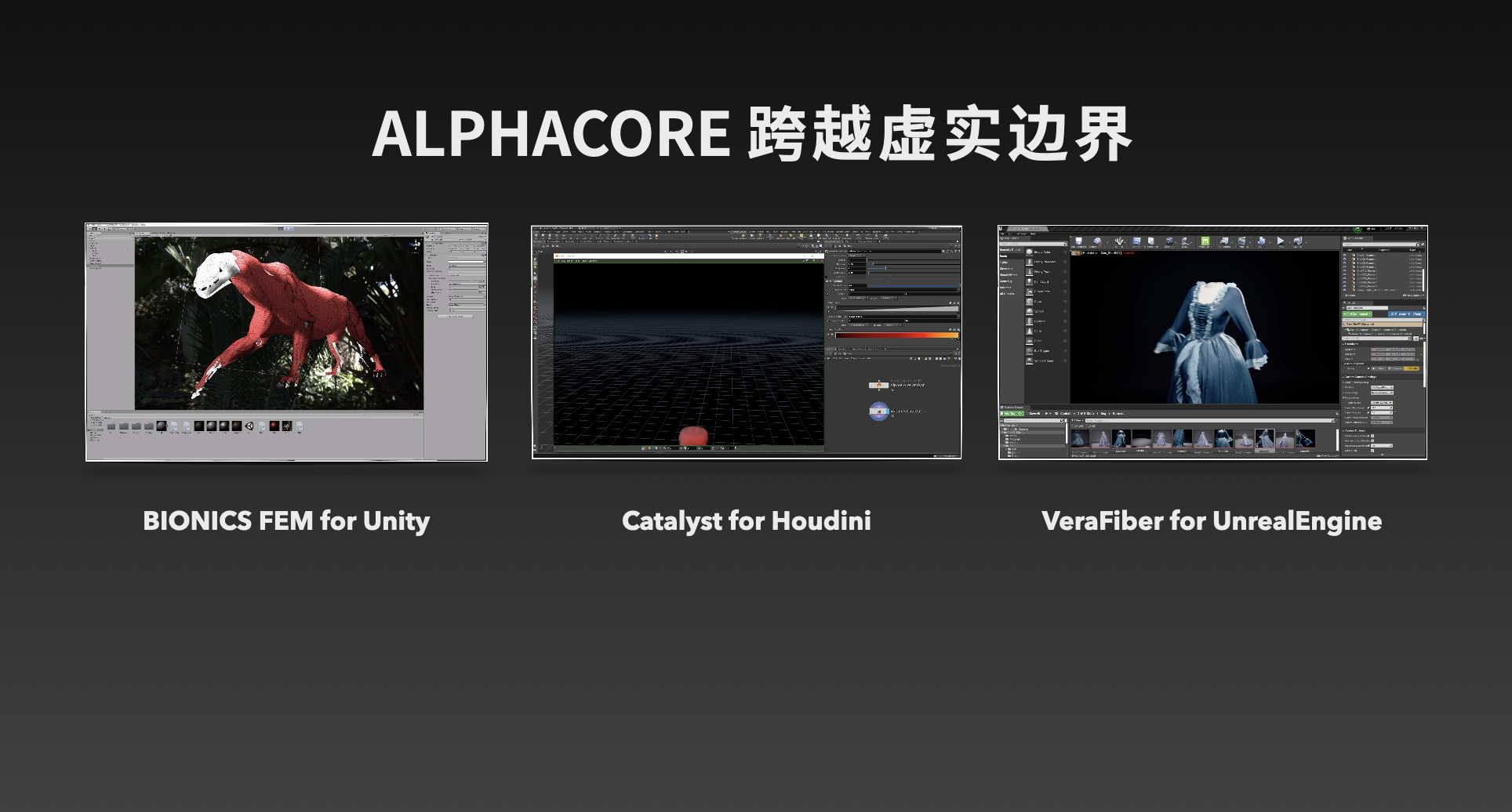 At the same time, AlphaCore also provides a multi-platform compatible version to maximize compatibility with the existing ecosystems such as Vulkan, CUDA, DirectX and other Runtime API environments, as well as Houdini, Unreal, Unity, and D5 game engines and design software, covering a wide range of film and television post-production, practical application scenarios in the fields of animation, games, architectural performance, etc.
Desktop Graphics (MTT S60) for PCs and Workstations
At the press conference, Moore Threads's new first-generation desktop graphics card, MTT S60, based on MUSA's unified system architecture, was launched and became the focus of the audience. The MTT S60 graphics card is mainly for PCs and workstations. With its excellent mainstream graphics capabilities, extensive AI algorithm support, breakthrough video processing capabilities, and unique green energy efficiency technology, it can provide strong computing power support for entertainment needs such as graphics rendering, digital office, audio-visual entertainment, intelligent manufacturing CAD/CAE, geographic information GIS, architectural design BIM, video editing, artificial intelligence applications, and mainstream games.
The MTT S60 graphics card is based on the MUSA unified system architecture GPU Sudi core chip. It adopts a 12nm process and contains 2048 MUSA cores. The single-precision floating-point operation can reach up to 6TFLOPS, and the pixel filling rate is 192G pixels/s. It is equipped with an 8GB video memory and supports 4K and 8K HD display. The MTT S60 graphics card not only supports mainstream H.264 and H.265 encoding formats but also provides hardware encoding support for the AV1 video format ahead of similar products in the industry; and in terms of hardware decoding, it supports AV1, H.264, H.265, etc. Hardware decoding of many formats Not only that, the MTT S60 graphics card also supports many graphics API interfaces such as DirectX, Vulkan, OpenGL, and OpenGL ES, which can meet the needs of various high graphics load applications for 2D and 3D graphics rendering.
The launch of the MTT S60 makes Moore Threads the first GPU company to support the Windows 10 operating system. The excellent graphics performance of the MTT S60 graphics card can also meet the needs of e-sports users for e-sports games. Not only can it provide a smooth gaming experience for "League of Legends" e-sports players under the Windows10 operating system, 1080P resolution, and the highest picture quality environment, but it can also complete "Counter-Strike: Global Offensive" and "Knife" under the domestic Linux operating system environment. The smooth running of many popular games, such as Tower 2.
At present, Moore Threads MTT S60 supports mainstream CPUs such as Intel, AMD, Loongson, Feiteng, Zhaoxin, as well as Windows, Kirin, Tongxin, Ubuntu and other operating systems, and has begun to cooperate with many PC partners, including Lenovo, Inspur, Tsinghua University Tongfang, Great Wall Chaoyun, etc. (in no particular order). At the same time, a number of partners demonstrated industry applications based on the MTT S60 graphics card, including: Kingsoft Office, Xiaoyu Yilian, Taiji Graphics, Zhongwang CAD, Glodon, D5, Sky Digital, SuperMap Software, Yizhirui, Zhongdi Digital, OSG Community, Gala Sports, etc.
Ecological collaboration has always been the key to promoting industry and experience upgrades. Therefore, Moore Threads initiated and cooperated with many industry partners to build China's "Perfect Experience System Alliance" (PES Alliance), aiming to focus on unifying standards, integrating resources, sharing technologies, etc. through collaboration in product planning, R&D, and final production stages , to create more value for ecological partners and create a perfect experience for end users.
MTT S2000 for Data Centers
The MTT S2000, a data center-level multi-function GPU product based on the MUSA unified system architecture Sudi core chip, is also eye-catching. Moore Threads MTT S2000 has built-in hardware modules such as rendering, audio and video codecs, artificial intelligence acceleration, and parallel computing, and can provide full-stack functions including graphics and image rendering, video cloud processing, AI, and scientific computing. With its unique rendering, virtualization, and other capabilities and extensive ecological support, MTT S2000 can fully contribute to the development of the green digital economy in application scenarios such as cloud desktop, Android cloud gaming, video cloud, cloud rendering, and AI inference computing acceleration.
MTT S2000 adopts the 12nm process, uses 4096 MUSA cores, has a maximum configuration of 32GB video memory, single-precision computing power can reach up to 12TFlops, supports H.264, H.265, AV1 multi-channel HD video codec, and a wide range of AI model algorithm acceleration , supporting mainstream deep learning frameworks such as PyTorch, Tensorflow, and PaddlePaddle. In order to improve the performance of MUSA architecture products in the actual production environment, Moore Threads also launched a unified programming model, runtime library, drivers, and other software tools specially optimized for the hardware architecture for MTT S2000 series products, which can facilitate developers to complete application migration and adaptation, fully utilizing the hardware resources and computing power of MTT S2000. MTT S2000 supports OpenGL, OpenGL ES, DirectX, Vulkan and other graphics APIs; supports the audio and video processing ecosystem through FFMPEG and VA-API/DXVA compatibility; and satisfies the program compatibility of AI and scientific computing through OpenCL and Vulkan.
At present, Moore Threads MTT S2000 supports x86 and ARM architecture CPUs, and server partners include Inspur, H3C, Lenovo, Tsinghua Tongfang, Great Wall Chaoyun, Si Teng Heli, and other OEMs (in no particular order). It was also announced at the event that Moore Threads will jointly invest in research and development with partners in cloud games, audio and video codecs, and heterogeneous distributed computing, such as Weiling Times, Shengwang, and First-class Technology, to jointly build an ecosystem and create the most optimized industry solutions. program. In addition, Moore Threads has also launched a strategic cooperation with Inspur in Yuanbrain ecology to jointly promote the development of industrial AI.
Metacomputing solutions power the digital economy.
Based on the core computing power of Moore Threads' multi-functional GPU, facing complex practical application scenarios, Moore Threads is working with many partners to create meta-computing solutions in various industries and contribute to the accelerated development of the digital economy with computing power support.
Digital energy promotes intelligent application. -Moore Threads and State Grid E-commerce Technology jointly promote the application of "artificial intelligence in the power industry" and the "industrial metaverse power scene". The two parties will jointly build a joint application research laboratory for intelligent computing chips to explore and promote the application of GPU chips in the power field, support the basic requirements of software and hardware in the construction of new energy power systems, and realize the construction, application, and promotion of dual-carbon high-performance intelligent computing platforms.
Digital agriculture helps rural revitalization– Moore Threads and Escher Technology jointly build a digital demonstration planting base, build a digital twin model of the agricultural base, fully realize standardized and intelligent management, and escort the entire process of product processing. Through digital planting, variety traceability can be achieved, high quality and high price of varieties can be guaranteed, crop rotation ability can be scientifically guided, and the new development trend of rural digitalization, standardization, and scale will be promoted.
GPU general computing, high-definition video processing-GPU modeling and 3D rendering capabilities for big data can quickly transfer the data of the physical world to the digital twin world in time and space dimensions, promoting the government and enterprises. Digital transformation to promote economic development. Moore Threads is exploring cloud-native rendering and digital twins with Ray Cloud and 51 World.
Digital Life, Helping Scientific Exploration-3D reconstruction of proteins by cryo-EM includes intensive computing links such as classification of millions of particles, reprojection, and model reconstruction. The Moore Threads GPU multi-core parallel architecture can accelerate the process of software protein remodeling and facilitate research in medical pathology and structural biology.
Through visual deep learning technology and TTS voice generation technology, Moore Threads has built a low-cost and lightweight solution to generate digital humans in real time with a single picture and a small amount of audio. Moore Threads Digital Human currently has functions such as expression learning, talent imitation, and explanation of the natural state of a given text.
With the unremitting pursuit of innovation by Moore Threads, its products and solutions will also continue to expand and upgrade, which will provide more powerful core power for more industries and cooperate with a wider range of partners to achieve win-win cooperation in the tide of the digital economy.
About Moore Threads
Moore Threads is a high-tech integrated circuit company that specializes in GPU chip design. Its primary focus is the development and design of full-featured GPU chips and related products that can provide powerful computing acceleration capabilities to Chinese technology partners. Founded in October 2020, the company is dedicated to developing a new generation of GPUs for meta-computing applications, constructing a comprehensive computing platform that integrates visual computing, 3D graphics computing, scientific computing, and artificial intelligence computing, and establishing an ecosystem based on cloud-native GPU computing to help drive the digital economy's development.
About UnixCloud
Moore Threads is distributed by Unixcloud Technology (Shenzhen) Co., Ltd. Unixcloud has a long history of product development and manufacturing. Moore Threads' official authorized distributor is UnixCloud. It focuses on the field of edge computing in response to the computing power requirements of artificial intelligence development, and it offers the industry edge computing products and solutions that meet a variety of AI requirements. UnixCloud launched the 10G network card business at the same time, offering four-port and two-port 10G optical fiber network cards based on the Mucse-based network controller N10.