Moore Threads and Zhongwang Software have established an ecological partnership and will jointly promote the development and application of industrial software based on the advantages and resources of both parties.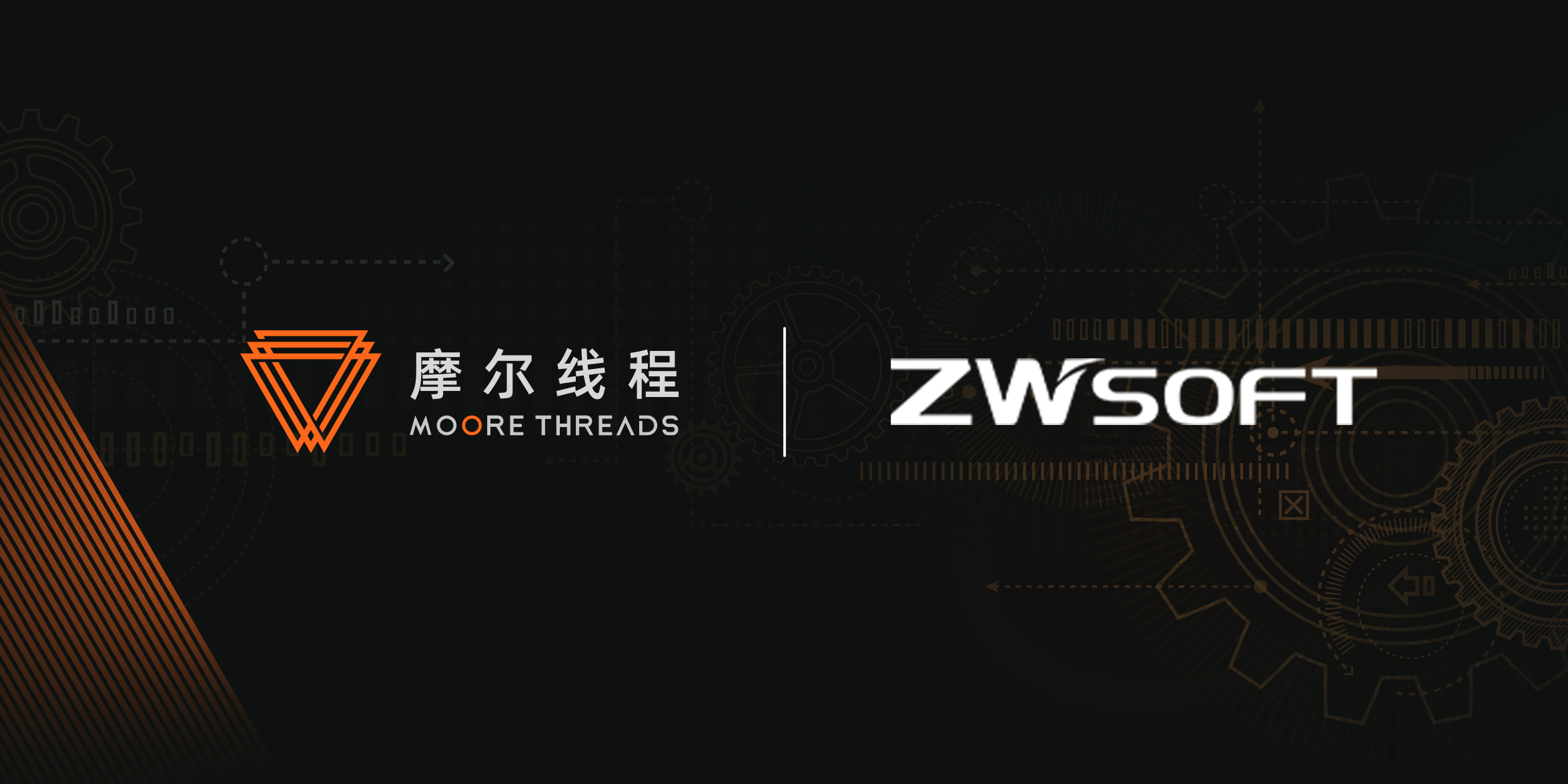 Moore Threads is a leader in full-featured GPUs, and Zhongwang Software is a leading provider of All-in-One CAx (CAD/CAE/CAM) solutions in China. Based on the powerful computing power of the full-featured GPU platform, Moore Threads and Zhongwang Software will improve the performance and experience of designing industrial software products such as CAD, and provide users with flexible and easy-to-use integrated solutions. The software and hardware joint testing process of the product line fully adapts and continuously optimizes the drive performance.
Industrial software is the cornerstone of intelligent manufacturing. With the gradual optimization of the policy environment and the continuous emergence of demand, it is ushering in important development opportunities. According to statistics, in 2020, my country's industrial added value will reach 31.31 trillion yuan, ranking as the world's largest manufacturing country for 11 consecutive years. With the implementation of national strategies such as manufacturing power and digital China, the application and coverage of industrial software in industrial industries and fields will be gradually improved. Digitalization will drive the technological transformation of industrial software and promote the high-quality development of industrial software.
At the policy level, the Ministry of Industry and Information Technology recently issued the "14th Five-Year Plan for the Development of Software and Information Technology Service Industry," which listed the promotion of industrial software development as a key task, clarified the work priorities of industrial software, and guided the next five years. The development of industrial software in China The development of industrial software continues to maintain good momentum. According to the statistics of the Ministry of Industry and Information Technology, by the end of 2020, China's industrial software will have achieved an output value of 197.4 billion yuan, a year-on-year increase of 11.2%.
Promoting the high-quality development of industrial software is inseparable from the capability support of basic key hardware such as GPU chips. The performance of chips represented by GPUs is an important determinant of software efficiency and visualization effects. Only by doing a good job in the coordinated development of software and hardware platforms and building a diverse, open, and innovative ecosystem can a strong productivity be formed, thereby promoting the software industry's growth and strengthening key software technology innovation and supply capabilities. The full-featured GPU chips and related products developed and designed by Moore Threads support various combined workloads such as 3D high-speed graphics rendering, AI training and reasoning acceleration, and ultra-high-definition video encoding and decoding. Come to a first-class user experience.
Moore Threads is an integrated circuit high-tech company mainly focusing on GPU chip design.
Zhongwang Software has been focusing on industrial design software for more than 20 years. It is the first listed company in the domestic A-share market for R& D and designing industrial software. The main core technologies and product matrix
Moore Threads and Zhongwang Software will continue to expand cooperation, build a sustainable and prosperous basic application software ecosystem, accelerate industrial software technology innovation and product iteration, facilitate large-scale application of industrial software, and contribute to the high-quality development of the industrial software industry.
About Moore Threads
Moore Threads is a high-tech integrated circuit company that specializes in GPU chip design. Its primary focus is the development and design of full-featured GPU chips and related products that can provide powerful computing acceleration capabilities to Chinese technology partners. Founded in October 2020, the company is dedicated to developing a new generation of GPUs for meta-computing applications, constructing a comprehensive computing platform that integrates visual computing, 3D graphics computing, scientific computing, and artificial intelligence computing, and establishing an ecosystem based on cloud-native GPU computing to help drive the digital economy's development.
About UnixCloud
Moore Threads is distributed by Unixcloud Technology (Shenzhen) Co., Ltd. Unixcloud has a long history of product development and manufacturing. Moore Threads' official authorized distributor is UnixCloud. It focuses on the field of edge computing in response to the computing power requirements of artificial intelligence development, and it offers the industry edge computing products and solutions that meet a variety of AI requirements. UnixCloud launched the 10G network card business at the same time, offering four-port and two-port 10G optical fiber network cards based on the Mucse-based network controller N10.