The Chinese GPU leader, Moore Threads, just established last year, is accelerating and defining the Chinese speed of the chip design industry. In less than 300 days, the first domestic full-featured GPU was successfully developed, and the A round of financing was completed.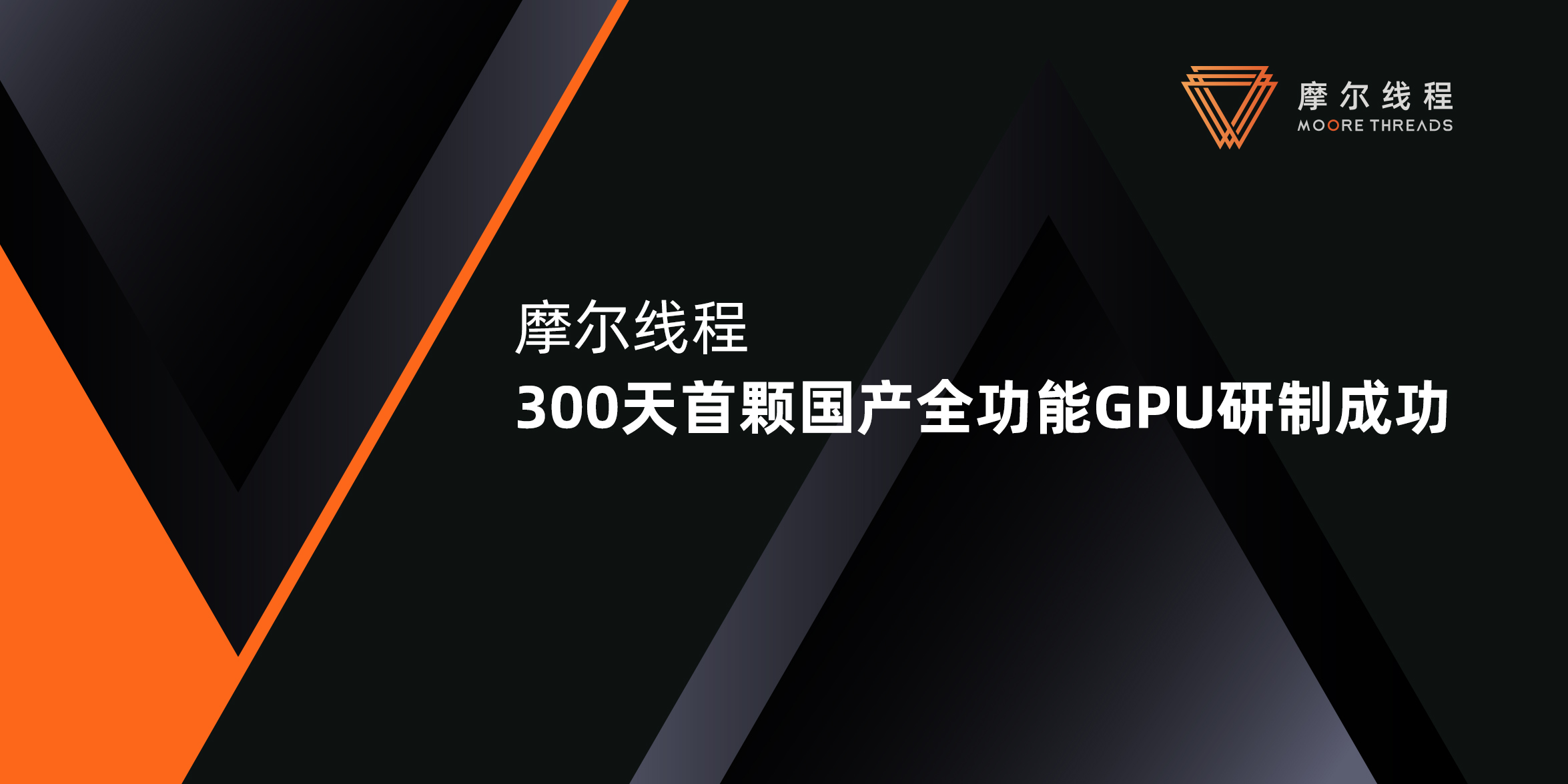 On November 25, Moore Threads announced that it had completed the A round of financing of 2 billion. This financing round was jointly led by Shanghai Guosheng Capital, Wuyuan Capital, and Bohai Zhongsheng Fund under the Bank of China International. CCB International, Qianhai Fund of Funds, and China Merchants Securities jointly participated in the investment with nine well-known institutions, including Hubei High-quality Development Industry Fund. The funds raised will be mainly used for the mass production and manufacturing of the first GPU chip, IP research and development related to GPU SOC, and the expansion of the domestic GPU ecosystem. Moore Threads was established in October 2020. The company is committed to building a computing platform in the fields of visual computing and artificial intelligence, developing the world's leading GPU with independent innovation intellectual property rights, and helping China build a local high-performance computing ecosystem. Moore Threads completed three rounds of financing within one year, and each round of financing received strong support from strategic investment, state-owned capital, and well-known financial investment. The financing announced in February this year was jointly led by Shenzhen Venture Capital, Sequoia Capital China Fund, and GGV Jiyuan Capital.
While completing the financing, Moore Threads also announced a breakthrough in research and development—the first domestic full-featured GPU chip was successfully developed as scheduled. Moore Threads has a complete software and hardware design team that designs modern, full-featured GPU architectures. The chip has a built-in self-developed 3D graphics computing core, an AI training and inference computing core, a high-performance parallel computing core, and ultra-high-definition video codec computing. Wait for the core. Rich experience in successful GPU design, rigorous and mature technical routes, and a deep understanding of China's GPU application market have enabled Moore Threads to successfully develop the first-generation full-featured GPU products in China in less than a year, creating a pioneering edge in the industry. The speed of domestic GPU research and development is the first.
With the rise of the global digital economy, the era of metaverse computing, in which everything is connected, is coming. The digitization and intelligence of the physical world have led to an explosive increase in the demand for massive graphics and data processing. Among them, GPU 3D graphics and image computing, AR/VR computing, and artificial intelligence computing as the infrastructure of cloud, edge, and end computing centers have become the general trend. GPU The importance of localization has also become increasingly prominent. According to IDC statistics, by 2024, the market size of China's GPU servers used only in data centers will reach 6.4 billion US dollars, with a compound annual growth rate of more than 27% in the next five years.
In the face of such a rapidly growing Chinese market, it is imperative to accelerate the research and development of domestic GPUs. Based on the intellectual property rights of independent innovation, Moore Threads focuses on the R& D and design of domestic full-featured GPU chips and related products. It can provide high-performance and full-featured GPU computing power support for China's digital technology ecosystem. Based on the idea of ​​R&D and innovation, facing the challenges of today's ecological environment, Moore Threads adheres to green innovation in the R&D and design of GPU products, uses advanced production technology and innovative energy-saving computing architecture, and achieves a better GPU energy consumption ratio. To meet the goal of "double carbon," reduce the cost of computing power for enterprise customers, reduce computing energy consumption, and realize the deployment of "effective computing power."
Moore Threads knows that the ecosystem is very important for GPU solutions and application innovation. The pace of its ecological construction is also accelerating, and the "circle of friends" is constantly expanding. The first domestic GPU has begun to adapt to domestic mainstream CPUs and operating systems and will work with a wide range of ecological partners to create a "China Perfect Experience System" based on domestic technological innovation, aiming to provide consumers and enterprise customers with the best user experience. At present, it has established cooperative relations with hundreds of ecological partners to jointly promote the joint development, performance optimization, and application innovation of domestic GPU application software. The company plans to widely enable GPU technology in digital twins, industrial simulation, digital culture and creative, smart energy, smart city, smart medical, autonomous driving, robotics, digital human, biological computing, and other key areas of digital economic development.
Zhou Daohong, general manager of Shanghai Guosheng Capital, said: "At present, the scale of China's digital economy is 41 trillion yuan, ranking second in the world, and it has become a new engine for China's economic growth and high-quality development." China must strive to become an important leader in global digital economic innovation. The source of the initiative is to seize the commanding heights of the global digital economic competition. Guosheng Capital actively supports the frontier innovation and exploration of China's digital economy development. According to the national '14th' five-year development plan, the data center, as a new infrastructure, undertakes the important mission of social digital transformation. For constructing a new computing power network system integrating data centers, cloud computing, and big data and realizing the green and high-quality development of data centers, it is necessary to evaluate comprehensive computing power and computing efficiency. The GPU has the natural advantages of highly effective computing power and low power consumption. It is the cornerstone of computing power to promote the construction of data centers under the background of "dual carbon". The domestic full-featured GPU developed and designed by Moore Threads, taking into account computing power and computing efficiency, can enable a wider range of digital application scenarios and contribute to the development of China's digital economy. The power of innovation. "
Zhang Fei, the partner of Wuyuan Capital, said: "Congratulations to Moore Threads for its successful financing." From the angel round to the A round, Wuyuan increased its holdings all the way. We believe that general-purpose GPUs are an important component of the new-generation computing platform and the core infrastructure in the era of artificial intelligence. One. The founder and technical backbone of Moore Threads are an entrepreneurial team that I very much admire. They have high ambitions and strong execution. I hope the team will continue to achieve product and commercial success. "
Wang Lixin, chairman of Bohai Zhongsheng Fund, a subsidiary of BOC International, said: "Humanity is about to enter the era of intelligent computing. Autonomous driving, robots, and biological computing are all inseparable from the empowerment of GPUs, and the demand for GPU chips may grow explosively. It is extremely difficult to develop GPUs. The Moore Threads team conforms to the requirements of the time and overcomes difficulties. It has demonstrated strong strength in this field. It only took less than a year to complete the research and development of the first domestic full-featured GPU. the speed of the industry. "
Wang Nan, general manager of the investment technology industry of China Merchants Securities, said: "The booming digital economy has created a huge demand for graphics and AI computing applications, which has brought great opportunities for the development of the Metaverse." With Cosmos, the industry's prospects will be clearer, and it will further drive product innovation and business model innovation. The Metaverse is a fusion application of many advanced technologies such as video games, 3D rendering, AR/VR, ultra-high-definition display, artificial intelligence, cloud computing, etc. The full-featured GPU is the key computing power engine realized by the technology, providing the most important computing platform for the Metaverse. We have conducted in-depth research on the industry and firmly support Moore Threads, which is precise because of its world-class GPU R& D team and software. The comprehensive strength of hardware system development The core team of Moore Threads has always been rooted in the GPU industry, has a deep understanding of the application requirements and product definition strategies in the graphics and general computing fields, and has taken the lead in proposing several leading GPU software and hardware technical standards of the era, with profound technical foundation and strong innovation. The full-featured GPU developed and designed by Moore Threads will help the industry enter the metaverse era faster. We look forward to exploring together with Moore Threads to continuously empower industrial innovation. "
About Moore Threads
Moore Threads is a high-tech integrated circuit company that specializes in GPU chip design. Its primary focus is the development and design of full-featured GPU chips and related products that can provide powerful computing acceleration capabilities to Chinese technology partners. Founded in October 2020, the company is dedicated to developing a new generation of GPUs for meta-computing applications, constructing a comprehensive computing platform that integrates visual computing, 3D graphics computing, scientific computing, and artificial intelligence computing, and establishing an ecosystem based on cloud-native GPU computing to help drive the digital economy's development.
About UnixCloud
Moore Threads is distributed by Unixcloud Technology (Shenzhen) Co., Ltd. Unixcloud has a long history of product development and manufacturing. Moore Threads' official authorized distributor is UnixCloud. It focuses on the field of edge computing in response to the computing power requirements of artificial intelligence development, and it offers the industry edge computing products and solutions that meet a variety of AI requirements. UnixCloud launched the 10G network card business at the same time, offering four-port and two-port 10G optical fiber network cards based on the Mucse-based network controller N10.